A Few Notes Regarding Parboiling Of Paddy And Its Benefits
Rice that you obtain by milling pretreated paddy is typically called as parboiled rice. On the other hand, the rice we get by milling untreated paddy is called as white rice or raw rice. Paddy milling sans any type of pretreatment is much prone to loss of vitamins and minerals as well as unwanted breakage. To reduce such loss of nutrients and breakage, it is needed for the paddy to go for pretreatment usually known as parboiling done at a Paddy Parboiling Plant. About 60 percent of the total paddy production in India is parboiled.
Key Benefits Of Paddy Parboiling
There are a number of advantages of paddy parboiling and some of them are as follows:
Reduced grain breakage during the process of milling that ensures higher head recovery of rice.
Parboiled rice is much richer in terms of nutritional value than that of the raw rice.
With parboiled rice, there is less of solid in the gruel during cooking than that of raw rice.
Parboiled rice bran contains almost 30 percent while compared to 15-20 percent oil from raw rice.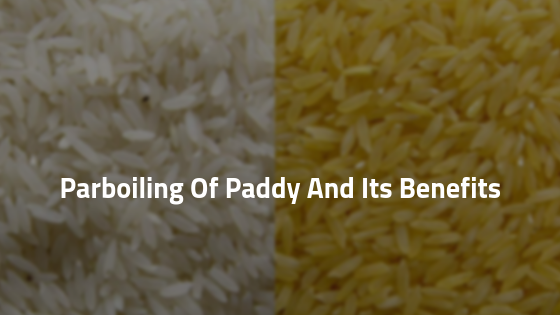 The Process Of Parboiling
The key process of parboiling is being carried out in three distinct phases – soaking, steaming and drying.
Soaking
At Parboiling Plant, paddy soaking is done by dipping paddy in water. Dipping paddy in water at normal temperature takes around 72 hours for soaking that makes the paddy prone to development of micotoxins. Therefore, it would be better to soak it at an elevated temperature of water. The duration of soaking differs with the temperature of water.
Water for soaking heated to 500 C and then allowed to come to normal temperature – takes about 24 hours for soaking
Water for soaking heated to 750 C and then allowed to come to normal temperature – takes about 12 hours for soaking
Water maintained at 600 C – takes about 8 hours for soaking
Water maintained at 650 C – takes about 6 hours for soaking
Water maintained at 700 C – takes about 4 hours for soaking
Water maintained at 720 C – takes about 3.5 hours for soaking
Steamed at 0.5 atm. Pressure – takes about 0.4 hours for soaking
Steaming
The process is steaming is done just to gelatinize the starch. Usually, saturated steam at the pressure of 1 to 5 kg/cm2 is applied for steaming the soaked paddy. The duration, however, depends on the paddy quantity. For smaller batch, it would take around 2 to 3 minutes while for larger batches, it may take about 25 to 30 minutes.
Drying
Drying parboiled paddy is needed for proper milling and storage. Oftentimes, the process of sun drying is implemented for paddy drying. For even drying, it is needed to spread the paddy in 2 to 3 cm thickness layer while being stirred at a regular interval of half an hour. Some millers use Paddy Dryer for paddy drying. Paddy should be dried in two phases rather than continual drying. In the initial phase, the moisture content of the paddy must be brought down to about 18 to 20 percent and the rest needs to be done in the second phase.