Buying Rice Mill Machinery? First Know About The Set Up Process
Have you been planning to purchase equipment which makes agro-processing easier for you? Approaching a reputed company that specialises in manufacturing and offering sophisticated rice machines is all that you need to do to make an informed choice.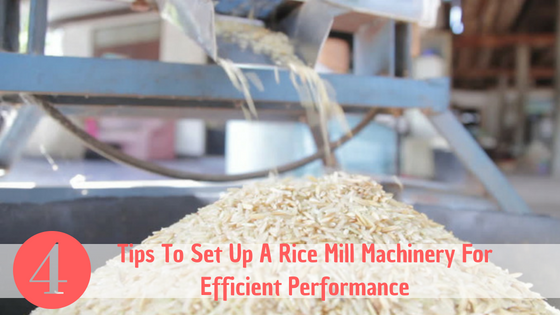 But, it is only when you set up the machinery correctly, can you be assured of unrivalled performance. Wondering how to find out about the process of setting up such equipment? Read on.
Today, there is a wide availability of different types of mill machinery which serve different kinds of purposes. While it's true that these machines can easily accomplish the task they are programmed for, it takes comprehensive and rigorous planning to take care of the logistics that are involved in the process of setting up a paddy dryer plant.
Have a look below to learn about the process of setting up such a mill.
4 Tips To Set Up A Rice Mill Machinery For Efficient Performance
Acquire A Suitable Land Space
Having a well-connected and easily accessible land space is really needed and thus, this should be your foremost consideration. You need to ensure that the land you are finalising on is easy-to-reach with various modes of transportation. A land that is in close proximity to the crop fields and the marketplace can be an added advantage as it will help in reducing the transportation costs.
Ensure Adequate Electricity And Water Supply
No matter whether you are setting up traditional machinery or a more sophisticated one, quintessential supplies are necessary for setting up every factory. With abundant water and electricity, these machines can easily regulate the production of rice at different stages all through the process.
Decide On The Orientation And Placement
Good orientation can provide distinctiveness to various sections of the rice mill machinery, enabling it to function as a whole. Ensure that the layout is properly designed so that it can facilitate the inbound operations that are included in the rice milling process. Put special emphasis on the required number of inventory and units since it will help in dealing with the workload during crucial times.
Quality Check And Control
Just like any other food, rice too is prone to pests when left unattended at any stage of production. This way, unwanted adulteration can creep in at any stage of the milling, thus lowering the quality of the end product. Therefore, a periodic quality check is important to the setup of every rice mill.
So, what are you still here for? Time to buy a sophisticated rice mill machine from an experienced manufacturer!