How Efficiently Rice Mill Tools And Equipment Help You Enhance Production Of Rice
Whether you are a resident of north India or south India, rice is undoubtedly one of the most popular and inevitable staples for Indians. Not only in India, rice is a popular, easily available and easily digestible carbohydrate and widely preferred diet choice for people across the world as well. In India, rice is widely cultivated almost throughout the country.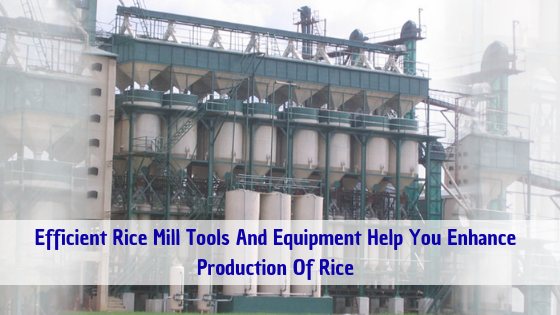 Before the rice is being placed on market, they need to be processed properly. Rice processing through Paddy Dryer Plant, has been done since years with a wide turnover each year. In our country, humongous quantity of paddy gets processed per year in different units all across the country.
How To Enhance Rice Production
If you own a rice mill plant and want to raise the production, there are ways to do so. Rice mill plants can be effectively established with the help of professional rice mill consultants. You can also purchase different machineries and equip your space. Best rice processing equipment helps removing the husk from the paddy and then polishes the grain to make it consumable for the humans. Automated rice mill machines make the process simple. Such mills run quite smoothly with sophisticated technology infused machineries.
Problems Faced By The Millers With Old Methods
There was a time when millers used to use traditional methods of rice processing. During that period, they faced a number of issues like irregular polishing and labour problems. But with latest methods and techniques, now you can get superior output along with fantastic quality of polished rice grain graded precisely as per the actual colour, size and texture. But today's rice mill plants are equipped with finest Rice Mill Machinery making it perfect for the mills to get operated with less number of labourers while yielding high quality and quantity of rice within a shorter span of time.
Types Of Rice Mill Plant Layouts
There are a number of rice mill plant layouts on offer. But if you want to grab the best performance, Enberg type mill machines will be the best to ensure better productivity. If you don't have much knowledge in this field, consulting a professional would be the best option for you to set up an innovating and effective rice processing plant while incorporating best quality Paddy Dryer. The specialty of such processing plants is that they are simple to operate. There is an ever-increasing demand for rice all through the world and automatic rice plants perfectly reciprocate the demand. They run smoothly without requiring any frequent repair while ensuring prefect yield. If you want to arrange your rice mill in a great way, consult an efficient rice mill plant professional. Also contact machinery providers once the project is made. You must have proper plan from the beginning to ensure proper utilization of the space and resources including raw materials. Remember, this is the era of technology. If you want to get the most out of your mill, you need to equip the plant with automated and high-class machineries.